A high-build epoxy floor is a type of industrial flooring that is made up of multiple layers of epoxy, which are applied in successive coats to create a thick, durable surface. These types of floors are typically used in commercial and industrial settings such as warehouses, manufacturing plants, and garages, due to their high durability and resistance to chemicals and heavy foot and vehicle traffic. High-build epoxy floors can also be customized with different colors, patterns, and finishes to create a unique and functional space.

Wolverine Coatings has been an industry leader in the formulation and manufacturing of advanced high performance industrial coatings since 2001. Their high-build epoxy systems are formulated in such a way that the individual coats are precisely designed to achieve different functions which, when combined, result in an overall superior system.
The Chip Floor System is one of our most popular DIY garage floor epoxy systems, it utilizes vinyl DecoFlakes to create stunning visual appeal and is one of the most durable coating systems available anywhere at any price!

Any respectable epoxy floor system begins with the primer. This is one of the most important components in any system, it's primary role is to establish adhesion with the concrete and to encapsulate the substrate. Wolverine Coatings' legendary BondTite 1101 is a versatile, feature packed primer. A 100% solids epoxy with low viscosity and low surface tension means it is very "slippery". This promotes deep saturation into the concrete where it chemically reacts with the concrete creating both a strong chemical and mechanical bond. Once cured, BondTite 1101 maintains a level of flexibility which provides for excellent stress relief, the coating can adsorb impact, and movement, without cracking which is key to ensuring a long coating life. For concrete that is in poor condition such as spauled or pitted due to exposure to road salts or other harsh chemicals, BondTite will restore and add significant strength.
Next up is the body or base coat, this coat's primary functions are impact and chemical resistance, self-leveling, and pigmentation. The 100% solids LiquaTile 1184 is unique in the industry for its fused ceramic content which gives it fantastic energy dissipation properties resulting in best-in-class impact resistance. When applied in sufficient quantities it's self-leveling nature will fill underlying surface irregularities to provide a smooth, flat finish unlike competing thin polyaspartic/polyurea coating systems. While all epoxies will color shift with exposure to U.V. light, LiquaTile's UVR hardener provides best-in-class long term color retention.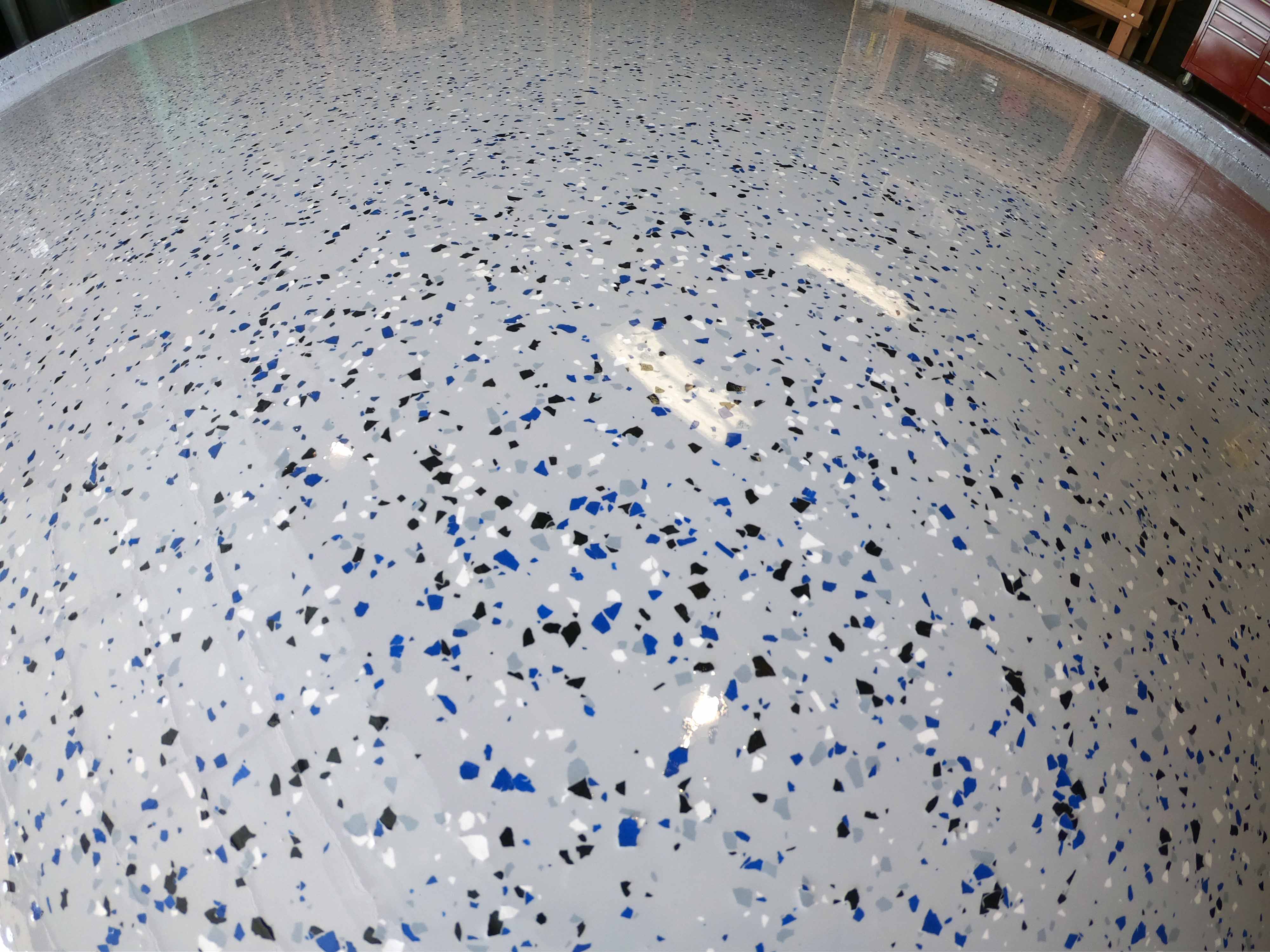 The DecoFlake look can be adjusted to suit your tastes and expectations. Light distribution will maximize the underlying LiquaTile 1184 body coat color and will provide a smoother surface finish. Broadcasting the DecoFlake to "full rejection" will completely hide the body coat color and will present a more textured, stippled finish. Full rejection DecoFlake distribution will create many voids and gaps that will need to be filled to ensure proper sealing. This can be accomplished by either applying a "flood coat" of DecoFX 1110 clear epoxy or, multiple thin coats of the EnduraShield 2254 urethane sealer/wear coat.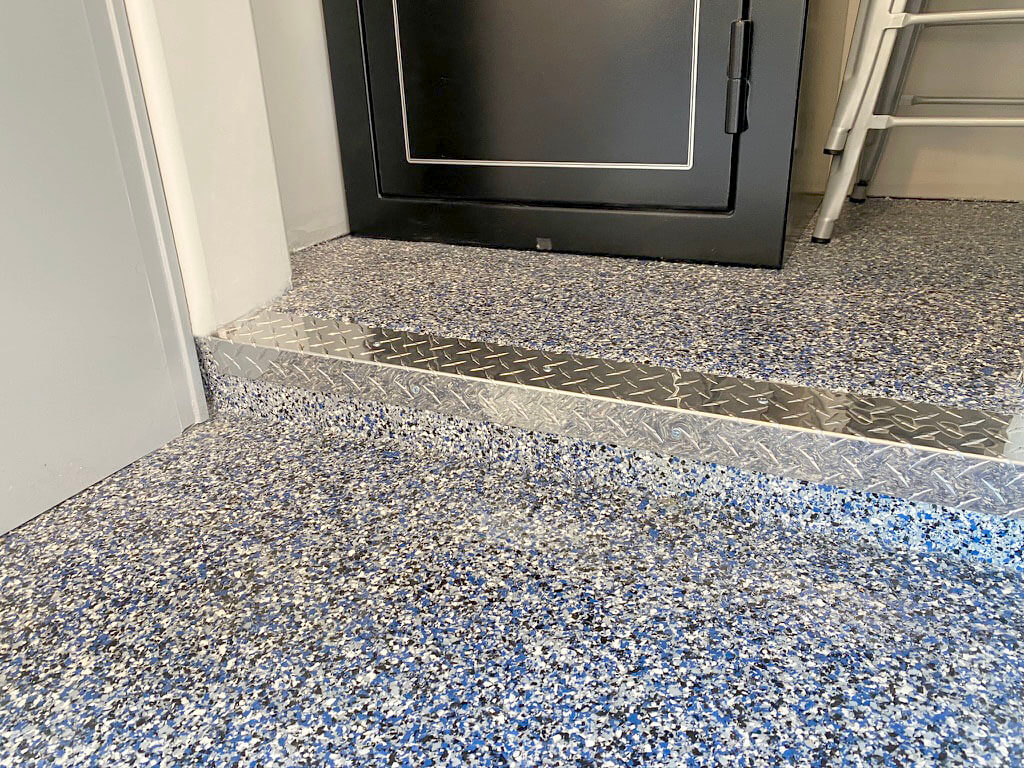 DecoFX 1110 can be applied thick and is less expensive on a dollar per mil basis than the EnduraShield urethane so if you are looking for a smooth final finish this is the way to go. However, if you are wanting a more stippled finish and/or are concerned about color stability in high U.V. exposure applications, a multiple EnduraShield coating approach may be better suited to your needs.
In any case a final sealer/wear coat will be required. Wolverine Coatings' EnduraShield 2254 hybrid-urethane is crystal clear and offers exceptional abrasion, and U.V. resistance. We highly recommend the optional SpheriTex traction additive as the EnduraShield coat can be quite slippery, especially when wet, without it.
The BondTite primer, thick LiquaTile body coat, DecoFlake vinyl chips, DecoFX flood coat all combine to create a thick, relatively flexible matrix that is designed to act as a shock absorber for the hard, rigid EnduraShield hybrid urethane sealer/wear coat. With a final finished thickness of between 21-40mils, our high-build systems dwarf your typical big box store DIY epoxy kits and the polyaspartic/polyurea systems promoted by the garage make-over franchises.
For those who insist on the best, high-build epoxy systems from Wolverine Coatings cannot be beat! These are genuine rigorous duty coatings found some of the most demanding industrial environments in North America and abroad.

Design your own chip floor system using our custom configurator:

3 LAYER SYSTEM - partial flake